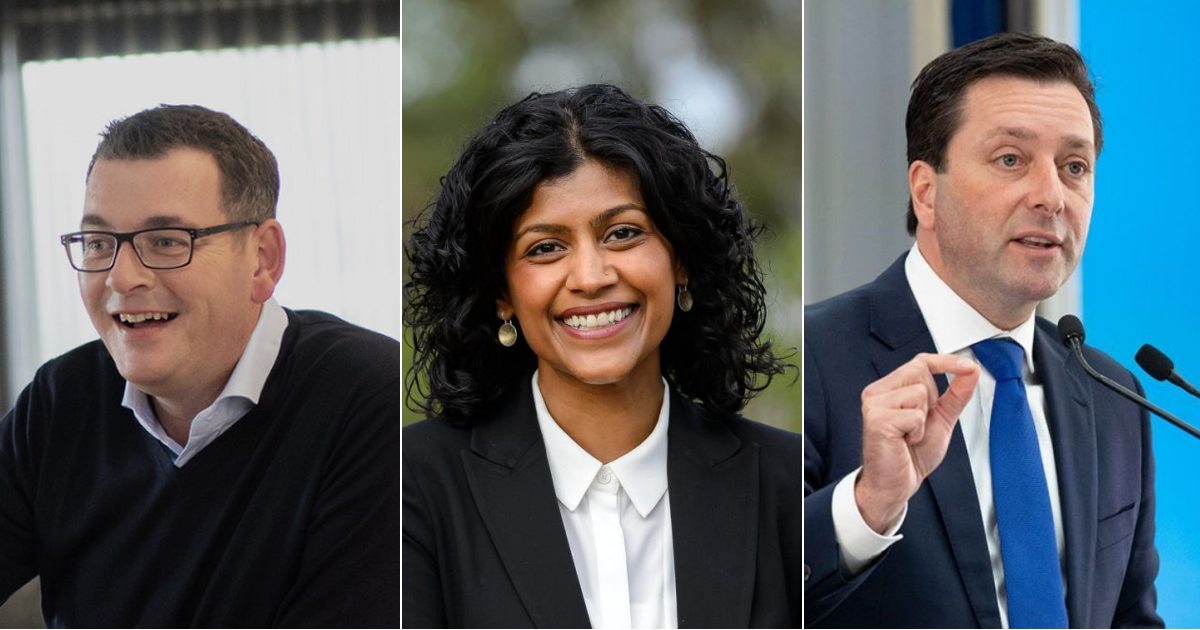 With just a few days to go before the good people of Victoria go to the polls, here's some of what Victorian Labor, the Liberals/Nationals and Greens have promised on energy and climate.
Victorian Work
Building on existing efforts and under the continued leadership of Dan Andrews:
Re-establishing a government-owned energy company with a view to building a group of renewable projects, each of which the State Government has a controlling interest.
95% renewable electricity by 2035 (initial State Government investment of $1 billion).
Net zero emissions by 2045.
$10 million to provide a Hydrogen Worker Training Center.
$6 million to train workers for the state's wind industry.
100 neighborhood batteries.
Victorian Labor's 2022 election commitments on energy can be found here.
Victorian Liberal/National
Under Victorian Liberal leader Matthew Guy:
First on the list – encouraging conventional onshore gas exploration and production, with new conventional onshore natural gas subject to a 100 per cent domestic reservation policy under the party's Victorian Gas for Victorians Guarantee.
Building a $1 billion Victorian Hydrogen Strategy
Upgrade electricity transmission infrastructure in Western Victoria to unlock 1,800 megawatts of renewable energy capacity, in addition to general modernization of the state's transmission system.
Give 1 million households a rebate of up to $1,400 for solar panel installations and $3,000 for a home battery. The battery and solar panel design seems very similar to the current and ongoing Solar Homes program. However, the Libs will double the subsidy for rental properties.
Installation of solar panels on non-specific public infrastructure.
Legislate the halving of emissions by 2030.
Maintain the ban on fracking and coal seam gas (CSG) extraction.
Pay the electricity supply bill for Victorian households in the first six months of 2023, saving each household up to $235.
The Victorian Liberals' 2022 election commitments on energy can be found here.
Victorian Greens
Under the leadership of Samantha Ratnam:
Ban on any new coal, oil and gas projects in Victoria, including offshore gas drilling. It will be effective "immediately".
A plan to take 1 million Victorian homes off gas and ban connecting new homes to the gas network.
Reducing greenhouse gas emissions in Victoria by 80% by 2030.
Net zero emissions will be reached by 2035 or sooner.
Increase Victoria's legal renewable energy target to 100% by 2030.
Legislation for the orderly phase-out of Victoria's remaining coal-fired power stations by 2030.
Guaranteed jobs for all coal and gas workers in the state.
End land tax exemptions for coal mines in the Latrobe Valley.
A properly funded Latrobe Valley Authority, to manage the transition away from coal.
Tough new coal pollution standards to protect the health of people in the Latrobe Valley.
Ax is the CarbonNet carbon capture and storage (CCS) project.
The Victorian Greens 2022 election commitments on energy can be found here.
Like other states/territories/countries, the last few years have been quite challenging for Victorians. On Election Day, don't forget to grab your democracy sausage (in any form – animal, plant, fungi). Then once safely back home and with your car keys tucked away:
(or not).
Relevant