Enphase Energy, Inc. ENPH recently announced that its Enphase Energy System, powered by IQ Microinverters and IQ Batteries, is witnessing increased adoption from customers in Belgium.
With a ten-year established position in the region, such improved deployment of its products demonstrates Enphase's ability to continue to meet the sustainable and reliable energy product requirements of Belgian customers among with the increase in energy prices.
Enphase Development Prospects in Belgium
Belgium is experiencing strong growth in the solar market as homeowners fight against energy prices that continue to rise in the region. In addition, growing environmental concerns have increased the demand for reliable, safe and high-quality solar-based products to reduce dependence on the grid.
In addition, homeowners' investment in energy in the future may increase as they seek energy independence. According to reports from Mordor Intelligence, the Belgian solar energy market is likely to witness a CAGR of more than 8% during the period 2022-2027.
The underlying growth prospects of the Belgium solar market may provide a platform for Enphase to advance in the market. Backed by its strong product portfolio that ensures exceptional performance under all weather conditions, ENPH is likely to benefit.
The recent additional deployment thus adds to Enphase's bright prospects to expand in the region with the ability to continuously change its product portfolio per market requirement.
Global Solar Market Boom
According to a report from Mordor Intelligence, the solar energy market is poised to witness a CAGR of 12.7% during the period 2022-2027. This presents many opportunities for solar players in the industry to expand their footprint across the globe.
Apart from Enphase, other solar players will enjoy the perks of expanding the global size of the solar market. SolarEdge Technologies SEDG, Canadian Solar CSIQ and ReneSola SOL.
SolarEdge Technologies' optimized inverter solutions address a wide range of solar market segments. In the third quarter, the company witnessed record solar revenue, driven by strong demand for solar products across all segments and geographies.
SolarEdge registered record revenues in 14 European countries, especially in Germany, the Netherlands, France and the United Kingdom. SolarEdge's long-term revenue growth stands at 31.8%. SEDG shares are up 18% in the past six months.
Canadian Solar has one of the largest utility-scale solar project development platforms. It serves a geographically diverse customer base across the markets of the United States, China, Japan, the UK and Canada, and the emerging markets of Brazil, India, Mexico, Italy, Germany, South Africa and Middle East.
The Zacks Consensus Estimate for Canadian Solar's 2022 sales indicates an increase of 45.9% over last year's reported figure. CSIQ shares have yielded 25.7% in the past six months.
ReneSola continues to benefit from a steady flow of contracts from local and international customers. With the successful implementation of its downstream strategy, SOL is currently expanding its business to international markets. It is committed to adding an incremental project pipeline to its key markets, including the United States, the United Kingdom, Spain, Poland, France, Germany and Hungary.
The Zacks Consensus Estimate for 2022 sales suggests a growth rate of 34.2% from last year's reported figure. Shares of ReneSola are up 7.9% over the past six months.
Price Movement
Over the past year, Enphase Energy shares have risen 18% against the industry's decline of 12.4%.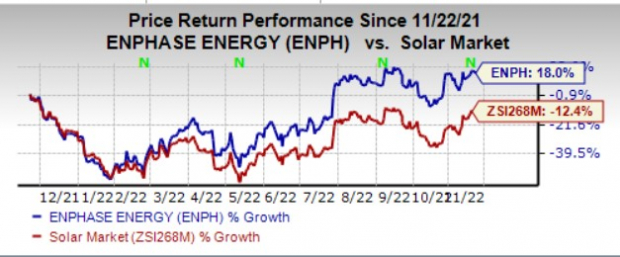 Image Source: Zacks Investment Research
Zacks rank
Enphase Energy currently has a Zacks Rank #2 (Buy). You will see the complete list of Zacks #1 Rank (Strong Buy) stocks today is here.
Special Report: The Top 5 IPOs for Your Portfolio
Now, you have the chance to get in on the ground floor of one of the best investment opportunities of the year. As the world continues to benefit from the booming internet, some new tech companies are on the verge of reaping big rewards — and you could be putting yourself in a position to cash in. One set to disrupt the online communications industry. Ideally designed for creating online communities, this stock is ready to explode when it goes public. With the strength of our economy and record amounts of money flooding into IPOs, you don't want to miss this opportunity.
>>See Zacks' Hottest IPOs Today
Want the latest recommendations from Zacks Investment Research? Now, you can download the 7 Best Stocks for the Next 30 Days. Click to get this free report
Renesola Ltd. (SOL): Free Stock Analysis Report
Canadian Solar Inc.(CSIQ): Free Stock Analysis Report
Enphase Energy, Inc. (ENPH): Free Stock Analysis Report
SolarEdge Technologies, Inc. (SEDG): Free Stock Analysis Report
To read this Zacks.com article click here.
Zacks Investment Research
The views and opinions expressed herein are those of the author and do not necessarily reflect those of Nasdaq, Inc.