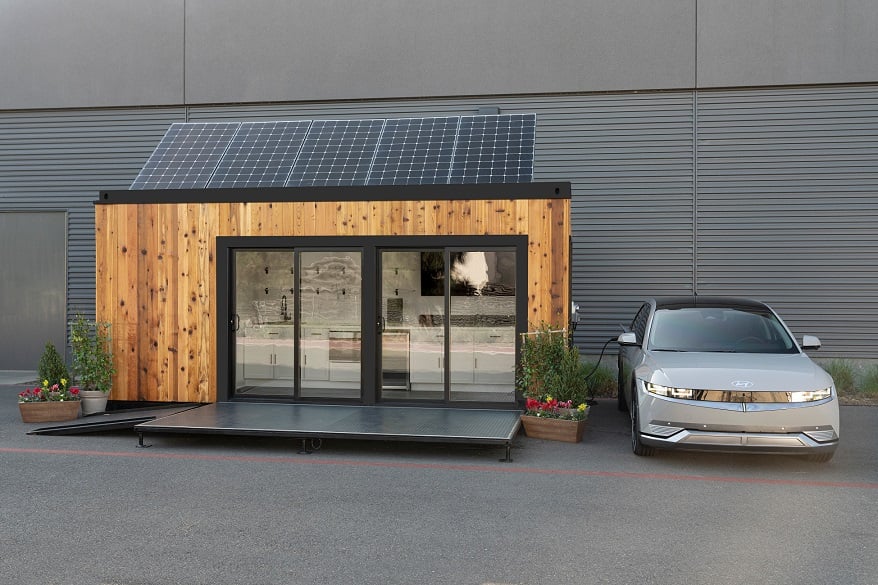 Automaker Hyundai has begun offering home electrification equipment to US customers, including EV charging solutions, battery energy storage and solar PV.
After presenting the Hyundai Home product range as a 'proof of concept' at the Los Angeles Auto Show in 2021, ahead of this year's edition which opened last week, the South Korean company announced the availability of the range of 16 states across the country.
In partnership with home electrification company Electrum, Hyundai North America aims to offer a one-stop-shop for home electrification, with customers able to purchase solar, battery storage and mobility solutions.
The pair's new online marketplace will connect customers with local installers of distributed energy resources (DERs) in their area.
Called the Hyundai Home Marketplace, customers get a dedicated energy advisor to talk through available options and purchases, including helping them determine the right system for their home's needs.
As standard, three different installation bids will be offered for each order from a network of electricians affiliated with Electrum. Customers can choose the one they want from the three suggestions they get.
The market is equipped with an automated bidding platform that can check what kind of incentives they can get from the utilities or their local government, for example if there are net metering programs for solar PV, virtual power plant (VPP ) programs for batteries. and so on.
Hyundai's sideways move into the solar and storage market follows a more vertically integrated recent play by another major automaker.
General Motors (GM) last month launched a dedicated energy storage division, which produces residential and commercial and industrial (C&I) energy storage systems and energy management solutions offered with existing EV charger range.
GM is working with its preferred installer, SunPower, to also develop a home energy system that includes integrated EV and battery storage solutions as well as solar PV. That includes developing an auto range with vehicle-to-home (V2H) capabilities. GM has in recent months partnered with two of California's leading investor-owned utilities (IOUs), Pacific Gas & Electric and San Diego Gas & Electric, to explore the potential of vehicle-to- home and vehicle-to-grid (V2G) .
Similarly, Ford's new all-electric version of its most popular truck, the F150, is ready with V2H capabilities, this time developed in partnership with another of the leading residential solar (and storage) US company, Sunrun.
In a recent interview with this site, Sunrun policy and market development senior director Chris Rauscher discussed a wide range of topics, including the Ford tie-up and the roles V2H and vehicle-to- grid (V2G) technology in the US. energy transfer.